Smoothing ~ Texturizing Treatments

Stephanie offers many smoothing ~ texture treatments that will transform your hair.
Whether you are looking to moisturize & control frizz or completely change your curly hair to straight...
She will personally customized your treatment just for you.
Keratin Treatment
$250- up
Ideal for sensitive clients who want a mild relaxation with intense shine and manageability. Versatility of wearing hair curly or straight.
100% FORMALDEHYDE-FREE
Botox Hair Treatment
$350-up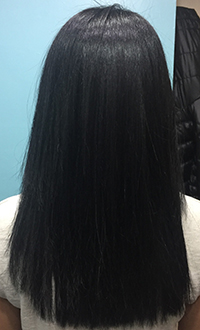 Botox for hair
is a deep conditioning treatment that gives you easy to manage, frizz-free, and lustrous hair every day.
100%
FORMALDEHYDE-FREE
Original Brazilian Treatment
$350- up
The most versatile of all treatments, softens and relaxes curly, frizzy, damaged hair. Hair will be Shiny, exceptional Smooth, Healthy and Ultra manageable.
100% FORMALDEHYDE-FREE
Thermal Straightening Treatment (Japanese) (Rebonding)
Call for pricing
Accurate pricing available on consultation.
* Book an appointment a $100 non-refundable deposit is required.
Bio Ionic ReTex is specially formulated to permanently straighten naturally curly hair. Your hair is exceptional smooth, sleek shine and ultra manageable that last.
Agave Smoothing Treatment
$300- up
Designed for the client who does not want to wait 2 days to shampoo their hair after treatment. Hair can be washed 24 hours post-treatment; results hair sleek, smooth, hydrate & condition.
100% FORMALDEHYDE-FREE
Instant Smoothing Treatment
$100- up
Smoothing treatment designed to last up to 6 weeks. Excellent treatment to receive prior to vacation for frizz-free styling.
100% FORMALDEHYDE-FREE
Special Events
Destination Events
priced upon consultation
Return to Top
Policy:
Thermal (Rebonding) Straightening
Keratin Treatment ~ Original Brazilian Treatment
Biotox Hair Treatment

Text or email is the fastest & best way to contact Stephanie!
Emails will be returned in-between clients & after hours.
Stephanie promise to get back to you within 24-hrs!

*Stephanie request that her clients give her a 24 hrs cancellation or to change appointment in advance.